Showing 1–12 of 21 results
Argentine Red Shrimp
(Pleoticus muelleri) know as Argentine Red Shrimp or Patagonian King Prawn are becoming commonplace in many people's fridges due to the product's quality.
Their distinct flavor originates from their natural habitat. Argentine Red Shrimp are caught in the icy cold, clean waters just off Argentina gives them a very delicate texture and a lovely sweet taste of the sea.
They are red and also larger than other shrimp species.
Argentine red Shrimp are:
Low in calories and fat.

Rich in minerals and vitamins, especially B12.

Contain a decent amount of Omega-3 fatty acids.
Vima presents Argentine Red Shrimp in different presentations to meet customer needs. Whole, peeled tails. Argentine Red Shrimp are very versatile and easy to cook and can be used in almost any dish. 
They require minimal cooking and are just lovely grilled or sautéed in a pan over very low heat. Pasta dishes are a favorite or even stir-fry dishes.
Available in:
Whole L1 (10-20 pieces/kg), L2(21-30 pieces/kg), L3 (31-40pieces/kg)
Tail
2kg/4.4lb carton, size C1 (30-55pieces/kg)
IQF, 2lb bag, sizes 16/20 & 21/25
P&D
IQF, 1kg bag, 10kg carton
IQF, 2lb bag, 22lb caton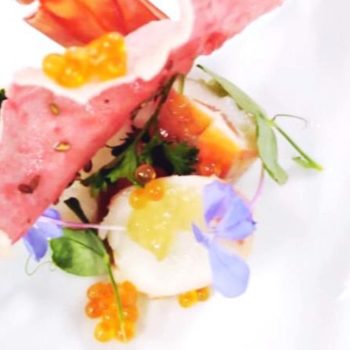 Jumbo shrimp salad with salmon roe
Delicious gourmet salad prepared with jumbo shrimp, with a firm texture and intense flavor. As a gastronomic alternative, salmon roe; it will provide an exquisite flavor and refined finish.
Check out this recipe