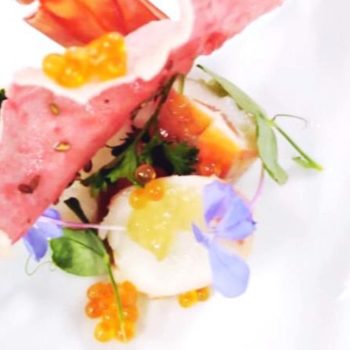 Ingredients
For the shrimp
2 l water
20 g sea salt
1 kg ice
For the warm velvet crab and carrot biscuit
For the garnish
40 g rice papers
50 g fresh beets
100 g salmon roe
25 g edible flowers
Instructions
Shrimp cooking
In boiling water with plenty of salt, add the shrimps whole and cook for 3 min due to their large size.

Once the time has passed, take out cold water and mix with salt and much ice to abruptly stop the cooking and facilitate their peeling.

When the shrimps are cold, peel and reserve the heads to later use when making the sauce.
Preparation of the velvet crab and carrot biscuit
Sauté the crab with half the butter, add the chopped leeks and tomato paste, sauté with the flour and add some white wine.

Evaporate and cover with water, add the spices. Cook and reduce the mixture for 25 min.

Roast the carrots in the oven covered with aluminum, peel, and proceed to make a puree with the butter and sugar.

Add the puree to the broth, cook, and strain. It should be thick. Set aside.
Crunchy beet paper
Brush the rice paper with the resulting broth from blending the beets.

Dehydrate rice paper by drying completely and fry in scalding oil. Put aside.
Assembly
Put the shrimp tails, cilantro, salmon roe, beet paper, and edible flowers.

Top with the warm sauce before serving.

Taste when warm to be able to combine with the shrimp sauce.