Loligo Squid
Squid, also called calamari in various countries, is a cephalopod mollusk with eight arms, two tentacles, and a tubular shaped body. They swim tail-first by pumping water through valves located near their head.
The health benefits of squid are:
High in protein and low in fat.
Good source of vitamin B12 and B6.
High in minerals such as Selenium.
Vima presents Baby Squid, a mainstay on many restaurant menus, usually seen battered and deep-fried. A great snack food.
Deliciously versatile in the kitchen as it lends itself to so many styles of cooking. Grilling or searing them in a hot pan, tossing them in a plate of pasta or on a bowl of rice.
Available as:
Baby squid 10-20 cm
600gr bag, 6kg carton
IQF, bulk pack
Baby squid 3-6 cm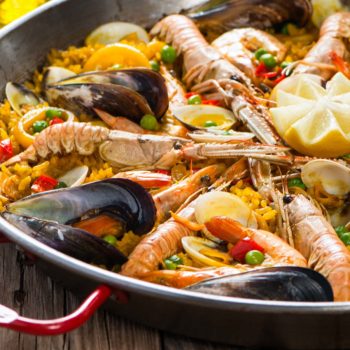 Spanish sea food paella from Rias Baixas
The seafood paella is, perhaps, the most popular of the paellas. Dare with our recipe, Galician seafood, and crustaceans are as well known as crab, Galician shrimp, lobster... they will be the kings of your table.
Check out this recipe