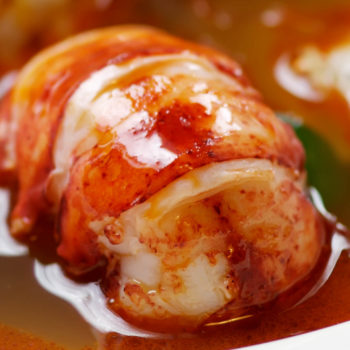 Instructions
Preparation of the broth
In a large thick-bottomed pot and with very hot oil, sauté the onions and the chopped parsley, adding the fish-heads and the crab, cook for 15 minutes, drain and set aside.
Preparation of the sofrito
Sauté the chopped onions, the chives with the garlic and the grated ginger in the oil, then add the sweet paprika and finally the tomato, the roasted almonds, and the fried bread.

Season to taste and grind until you get a fine red paste. Set aside.
Preparation of fish and seafood
Cut the fish into 6 equal-sized pieces.

Count one slice of Galician lobster per person, (just the meat or in its shell), and crush the pincers to facilitate cooking.
Make the stew
In a large clay pot used for cooking, add the oil, the fish, and the lobster, add the pepper, and the flour and brown on both sides once it's hot. Add the squid and sauté until they turn white.

Then add the sherry and flambé.

Then the sauce, the white wine, and the vermouth. Boil until it evaporates, 2 minutes.

Add the shellfish, placing them on top in the saucepan and cook over medium heat, covering them with the broth.

After 5 minutes of cooking and when the sauce is thick, and the seafood is just cooked, sprinkle with chopped parsley, and part of the toasted almonds.

Let stand as it will bring out the flavors.

A good Galician wine, Albariño, is highly recommended. Fresh, elegant, and crisp.
Note:
Never overcook shellfish as it loses all its properties.