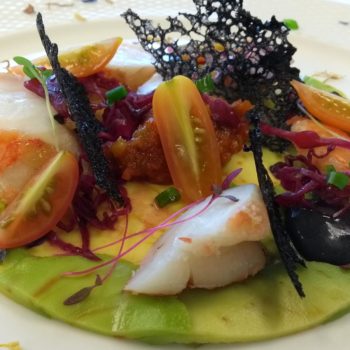 Ingredients
500 g southern shrimp with head Vima
500 g avocado fortuna, carla or red
150 g cherry tomatoes
2 g coriander
2 g fine salt
5 g radish sprouts
Honey and nuts vinaigrette
1/2 cup walnut oil
1 cup apple cider vinegar
5 g molasses honey
Ink crunches
1/2 cup wheat flour
1 cup natural water
Instructions
Shrimp preparation
Thaw shrimp one day in advance in the refrigerator.

Prepare a large bowl with water, ice, and sea salt (10 g of salt X liter of water).

Cook the shrimp in boiling water and before they start boiling, remove them and immerse them in the ice water to stop cooking.

Once cold, peel and reserve.
Avocado carpaccio
Peel the avocado and cut into thin slices with a mandoline slicer or cold cut machine. Place on plastic film supported by a large plate without leaving gaps between avocado slices.

Put in a refrigerator allow time to get cold to guarantee compaction. Proceed to take out and cut with either with a round mold or into squares using a knife. Carefully move directly onto the plate.
Ink crunches
Mix the flour, water, and ink. Mix until obtaining a kind of liquid tempura.

In a non-stick and oiled frying pan, fry a light layer of the mixture until reaching a dry and crisp texture. Take out and drain on kitchen paper.
Dehydrated flowers
Remove petals from the flowers and dry in the oven (50 ªC) or use a dehydrator. You can also allow them to rest under the sun (make sure to cover them to prevent them from flying away).
Honey and nuts vinaigrette
Mix the honey with the vinegar and add oil little by little.
Final dish assembly
On top of the avocado, put the shrimp cut in half, the cherry tomatoes cut in half, sprinkle the coriander on top, and finally add the radish sprouts.

Lightly top with the vinaigrette.

Put the black ink crunch on top as a decoration.

Add the dried flowers to decorate.